Order by Date: May 4, 2020
Release Date: June 2020
From your hand of cards, you will choose a Pain Color, representing cards you don't want to win. If you do win cards matching your Pain Color, they will be negative points equal to the number on each card! However, all other colors you win are worth one point each.
Watch out for the other players as they will deceitfully stick you with cards matching your Pain Color! The player with the most points at the end of the game wins!
2-6 players
Ages 10+
20 minute play time
Order by Date: May 22, 2020
Street Date: July 1, 2020
________________________________________________________
In Ride the Rails, you will invest in railroad companies, build railway track across America, and deliver passengers to as many cities as possible.

Each of the 6 game rounds features 3 phases:
1. Take a Share: each player must take any 1 locomotive from the available supply of Railroad companies as a share of that Railroad.
2. Build Railroad Track: each player may build Railroad track in companies that they own at least one share.
3. Ride the Rails: each player transports a Passenger to a city, paying dividends (points) to all shareholders.
Each round, a new Railroad company is introduced to the game, and each Railroad company has its own special placement rules! Deliver passengers to as many cities as possible to earn the most points. Be cautious in your travels, as shareholders of Railroads that you use will also earn points!
Ride the Rails is a game of simple rules (only 1 sheet of paper) with varied strategies & tactics for 3 to 5 players ages 12 and up, playing in about an hour.

Contents (subject to change):

1 game board

5 player boards

162 wooden locomotives

52 wooden passengers

7 tracker disks

15 player disks

1 round marker

1 rule sheet
Ride the Rails reimplements Rail USA from Winsome Games, originally released in 2014. This new production takes that title and places it in different parts of the world. Additionally, a new turn order structure has been implemented.
3-5 players
Ages 12+
60 minute play time
________________________________________________________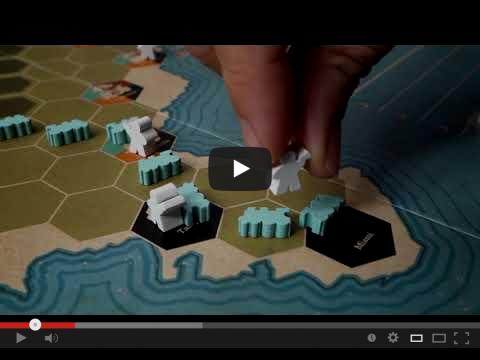 Order by Date: May 22, 2020
Release Date: July 2020
________________________________________________________
CTGIR202
Ride the Rails: France and Germany Expansion
$19.99 SRP
This expansion features a double-sided board of France and Germany.
In France, Paris has special connection rules for the railroad companies. Paris will also always have a passenger available for delivery!
In Germany, mountain terrain makes it difficult for players to build railway across the land.
Both maps feature new ways in which the 6 railroad companies are introduced in the game!
Order by Date: June 30, 2020
Street Date: August 26, 2020
________________________________________________________
$39.95 SRP
In New York Zoo, you are constructing an animal park. Build animal encounters, introduce new animals and raise their offspring. The first player to cover all the construction spaces on their zoo board with Enclosure Tiles and Attractions wins the game.
The game play is straight forward as you have only two turn options: build a new enclosure in your zoo area or populate your zoo with more animals. But be sure to time your actions well since you want your zoo to participate in as many animal breedings as possible.
1-5 players
Ages 10+
30-60 minute play time
________________________________________________________
$11.99 NPI