Order by Date: February 1, 2020


Release Date: March 2020
$109.68 SRP
SDI
Stringamajig is the new party game from Fireside Games hitting shelves in April. Part drawing game, part charades, this hilarious spectacle will have players cracking up as one player tries to get everyone else to guess a word by drawing and interacting with a loop of string.
Fireside Games is making it even easier for your store to have strong sales by offering the Stringamajig Launch Kit. Each kit contains everything you need to get in on the fun.
Contents:
5 copies of Stringamajig

1 Demo Copy of Stringamajig

12 promo car packs (6 cards per pack)

1 shelf talker

5 "Ask for Promo!" stickers for point-of-sale incentives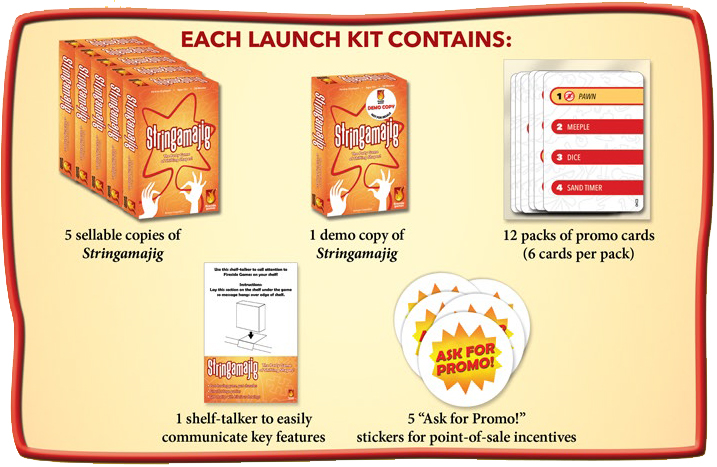 $19.95 SRP
SDI
Stringamajig is a party game that's part drawing game, part charades. You try to get the other players to guess what you're drawing using only a string and your imagination. Draw and animate as many words as you can in 60 seconds. Change up your play with Challenge Words and earn more points!
4-10 players
Ages 20 minute play time
Ages 13+
Contents:
1 loop of string

140 word cards

4 blank cards

1 rulesheet

1 scorepad

1 pencil

1 60-second sand timer