Order by Date: February 5, 2020
Street Date: February 27, 2020
$12.99 SRP
SDI
This gaming box was designed with Transformers TCG in mind, but also works great for Pokemon, KeyForge, Magic: The Gathering, and many other games. It features a secure, latching lid with beveled insets that keep cards in their cells. Each cell holds 60, single-sleeved cards. Two cells can be combined by removing the divider between them to open up space for oversized cards (in 3.5 x 5 Toploaders too). The dice tray is removable and you can store one of the cell dividers beneath it. The Prime X4 also has a long slot that is great for tokens, pencils and pens, or poker chips.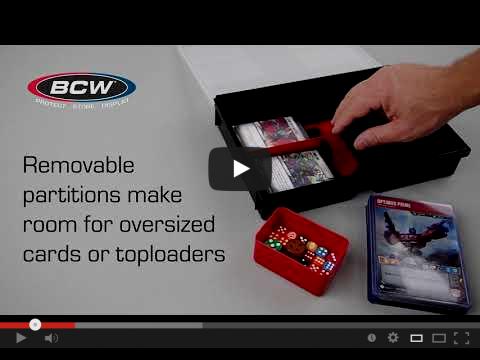 Order by Date: January 20, 2020
Release Date: February 2020
____________________________________________________________________________
Play Mat Tubes with Caps & Dice
Each tube includes two 6-sided dice. An oversized cap on one end allows for dice storage. The tube's tri-oval design prevents the tube from rolling off the table.
Play Mat Tube: Clear with
Black Caps/Dice




$5.99 SRP
SDI

Play Mat Tube: Clear with
Blue Caps/Dice




Play Mat Tube: Clear with Green Caps/Dice



Play Mat Tube: Smoke with
Black Caps/Dice




Play Mat Tube: Clear with
Red Caps/Dice




Play Mat Tube: Clear with White Caps/Dice