Order by Date: November 22, 2019
Street Date: January 24, 2020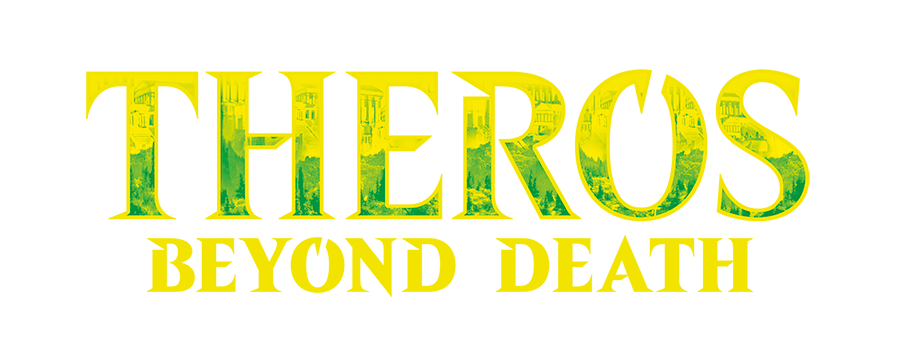 WOCC62540000
Magic the Gathering: Theros Beyond Death Draft Booster Display
Draft Boosters are the backbone of Magic. They're the basis of Limited formats like Booster Draft and Sealed Deck, and they're great for players looking to build a unique collection of cards for Constructed formats. New and experienced players alike enjoy tearing into a Draft Booster to discover which new cards they'll add to their decks.
36 boosters per display
15 cards per booster
Bundles are a great way for players to fully immerse themselves in the new set and update their decks for the new Standard environment. With plenty of lands and Draft Boosters, plus a life counter and reference cards, the Bundle also makes a great way for newer players to start building their decks.
Contents:
10 Theros Beyond Death Draft Boosters

20 foil land pack

20 regular land pack

1 foil promo card

1 oversized Spindown life counter (1.5")

2 reference cards

1 reusable storage box
WOCC62570000
Magic the Gathering: Theros Beyond Death Planeswalker Deck Display
Planeswalker Decks are ready to play right out of the box and familiarize players with the characters, mechanics, and setting of Theros Beyond Death. They offer a great opportunity for players who are interested in Magic to learn the game.
6 decks per display
Deck Contents:
1 ready-to-play 60-card deck featuring a foil planeswalker card

2 Theros Beyond Death Draft Boosters

1 strategy insert

1 MTG Arena code card
WOCC62600000
Magic the Gathering: Theros Beyond Death Theme Booster Display
Theme Boosters are perfect for players looking to expand their collection with a specific strategy in mind. These larger booster packs are full of cards all based on a single theme. Players who are looking to build their specific deck but still love the surprise of opening booster packs will love the Theme Booster.
10 boosters per display
35 cards from Theros Beyond Death, all themed around a single color per booster
WOCC64350000
Magic the Gathering: Theros Beyond Death Toolkit
Once a new player understands Magic's basic rules, the Deck Builder's Toolkit jumpstarts their collection and introduces them to deckbuilding.
Contents:
1 pack of 125 cards (included cards are the same in every Deck Builder's Toolkit)

4 fifteen-card booster packs from recent Magic sets

100 basic land cards

1 deck builder's guide

1 Magic quick reference booklet

1 reusable card storage box
WOCC68790000
Magic the Gathering: Theros Beyond Death Collector Booster Display
The Collector Booster gives players immediate access to the coolest, most desirable cards from Theros Beyond Death. Each Collector Booster is packed with the set's most exciting offerings. It's a supercharged booster experience.
12 boosters per display
15 cards per booster